Woods' Silver Fleet has been cruising on the Thames for over 7O years, welcoming aboard guests such as Prince Charles, Rihanna, Sir Mick Jagger, Daniel Craig, Harrison Ford, Brigitte Bardot and Justin Timberlake.
Featuring a Michelin standard Tasting Room and a spectacular bar, all framing the view of Westminster at water level, and 140m of private river moorings (the longest in central London). The quay is located directly in front of the Savoy Hotel's river entrance, a few steps from Covent Garden and on the quiet, leafy Victoria Embankment. Woods Quay also overlooks one of London's most famous views of Westminster, once painted by Monet.
Winner of the RIBA London Award 2022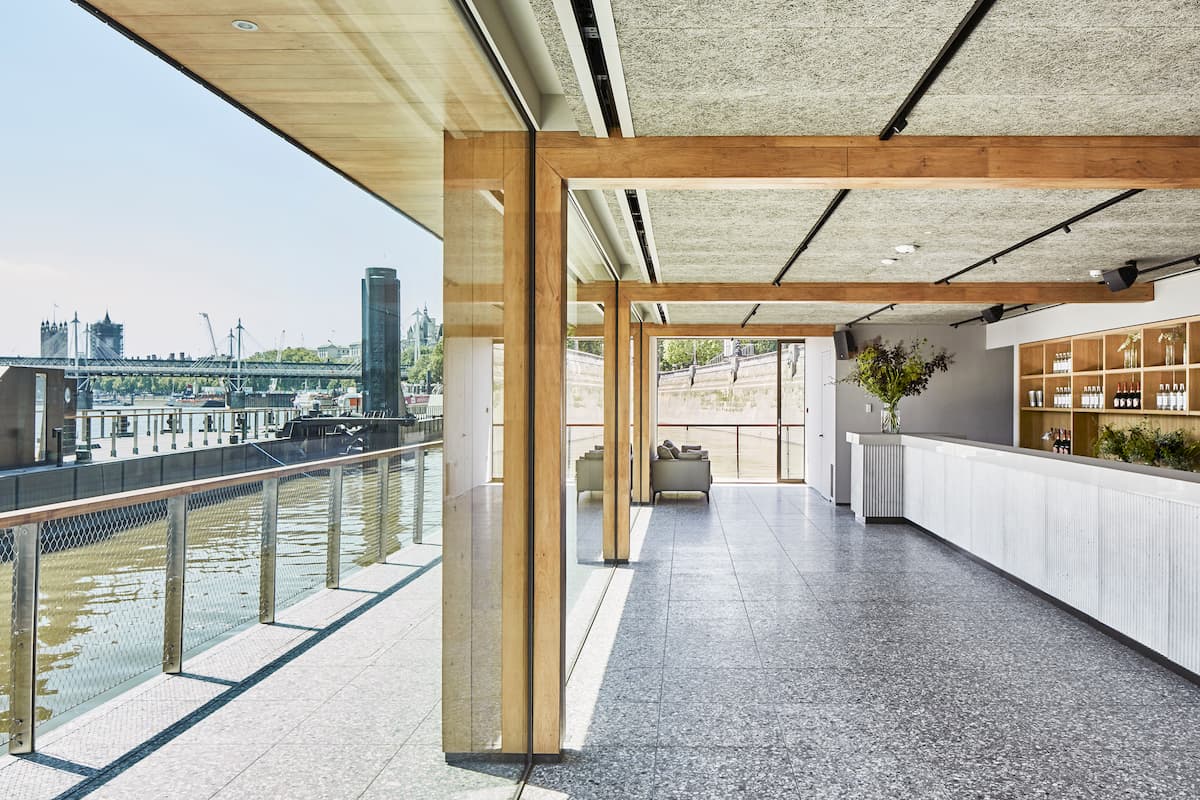 A LONG-AWAITED HOME TO WOODS' SILVER FLEET
Woods Quay is an extraordinary new building moored on The Thames; basking in the revered riverscape from Waterloo Bridge towards Westminster & beyond...
Rising, phoenix-like from the site of an original Victorian pier, offering our private charter guests a magnificent 21st-century passage to their awaiting boat or as a place to pause, eat, drink & languish.
Terrazzo floors reflect the river's shingle banks, embedded with 2000 years of lost treasures. Matte brass, steel, canvas & oak envelop the decks, set against deep green, verdigris & granite grey of the embankment.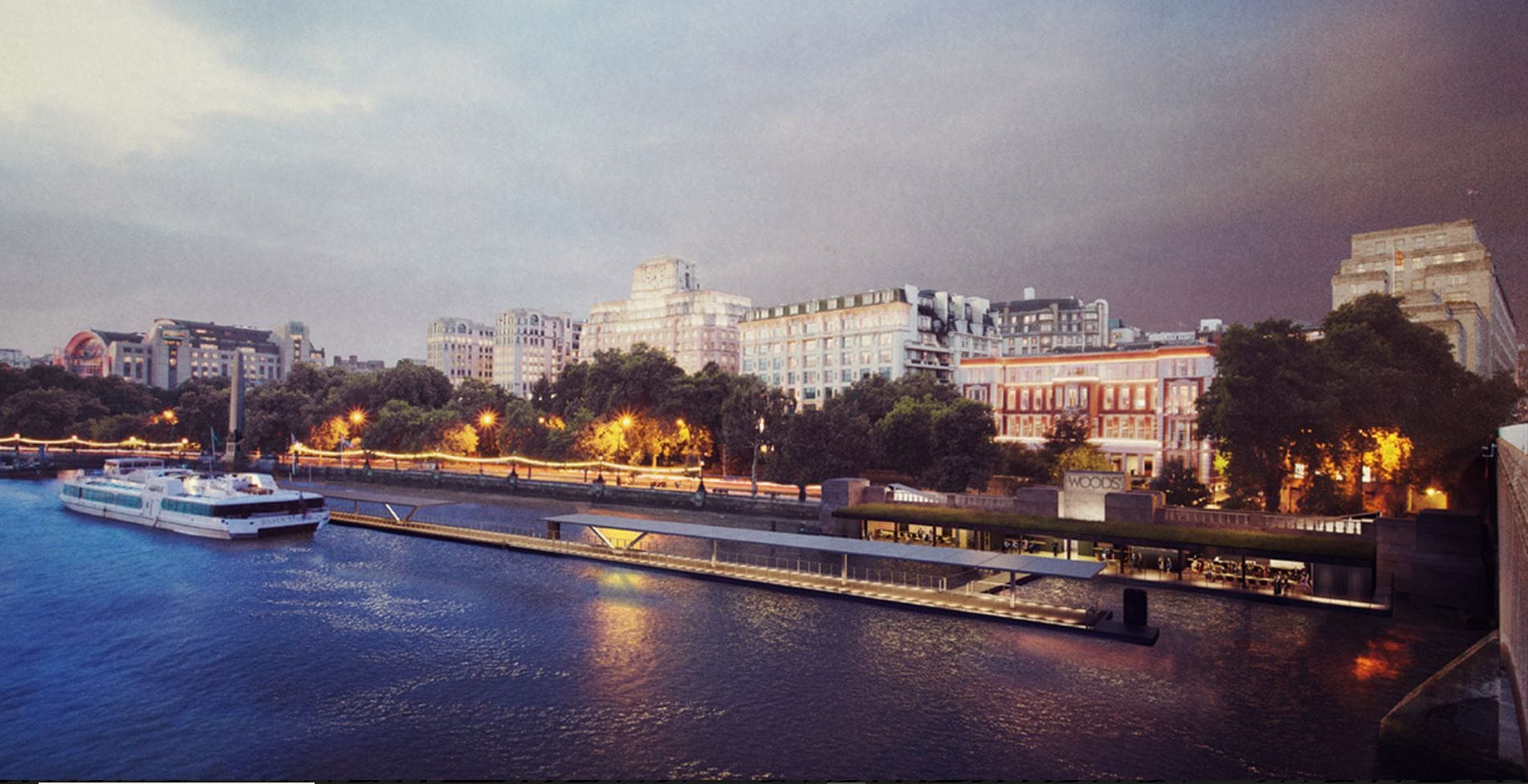 WEST WING – BAR
Idyllically positioned to take in a panoramic water level view of Cleopatra's Needle, the Houses of Parliament & the London Eye, the West Wing Bar offers a private room for guests to enjoy. With vast floor-to-ceiling windows, a wraparound outside deck (for cigar & cigarette lovers) and a show-stopping bar serving delightful cocktails, wines & spirits, it's an inspiring space to await your dreamboat or carriage home.
EAST WING - TASTING ROOM
A room designed to celebrate the Woods family's twin passions for feasting & the glorious River Thames. Glass walls capture the ever-changing riverscape with an immense stone & concrete bar overlooking the Electrolux Grand Cuisine equipped galley - favoured by Michelin chefs around the world.
As guests enter through the Cormorant Deck, a snug private drinks bar & spacious outside deck await to enjoy cocktails & sample wine. Executive Head Chef, Doug Gaunt, will host bespoke menu tastings at the galley bar or at the long feasting table.
CORMORANT DECK
The dramatic entrance, the spacious, light-filled reception deck in pebble terrazzo flooring & oiled oak columns perfectly frames the London riverscape & private moorings beyond: a beautifully flexible space to commence & close events.
The lofty ceiling shades & shelters guests, while the open-air wall to the riverside offers the calm lapping of the tide & views of the Southbank & Westminster. In cooler seasons, guests can lounge beside a pair of large fireplaces creating atmosphere & warmth for greeting friends and dining.
CONTACT US TO DISCUSS YOUR NEXT MARINE PROJECT